United Kingdom's manufacturing sector closed 2016 with a bang, hitting a two-and-a-half-year high in December, an industry survey revealed.
The Markit/CIPS purchasing managers' index (PMI) went up to 56.1 last month from 53.6 in November. Industry players monitor the seasonally-revised index for signs of expansion or contraction in the manufacturing sector. When the index is at 50 or higher, that means the sector is expanding. Conversely, any figure below 50 indicates contraction.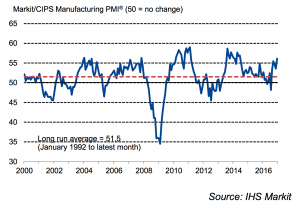 UK manufacturing production and new business rose last month, with new export business growing for seven straight months, as British manufacturers reported increased orders from major markets including China, Europe, U.S., and the Middle East.
Not only was last month's PMI reading the highest in 30 months, it was also the fastest in terms of growth rate for both production and new orders in nearly three years.
The December survey attributes the rise of the index to robust demand from abroad, which was boosted by the weaker pound. The British currency has fallen sharply against rival currencies in the past year, making UK products more affordable for overseas buyers.
The weakened sterling, however, is proving to be a mixed blessing for the sector.  While the pound helped boost the country's manufacturing sector get off to a strong start this year, cost for British manufacturers remain high due to reduced importing power, the Markit/CIPS survey found.
The weakness of the British currency has nudged the price of imported goods higher, which has translated to higher costs for a number of manufacturers.
The survey noted that price pressures continued to be at elevated levels in December, with inflation for input costs and output charges remaining among the fastest in the survey's history.
To negate the higher input costs, some manufacturers have started to pass on the burden to their clients by increasing their selling prices, with prices consistently rising over the last eight months.
Some analysts expect these higher costs to push the inflation up in the coming months.
If you are a UK business within the Manufacturing sector looking to boost your company finances, a Part Time FD can provide the direction and financial guidance you need to ensure maximum success. Contact Assured FD Services today to see how we can help.